Morus Zero Ultra-fast Portable Clothes Dryer for Apartment, Tiny Home or RV
---
Are you tired of waiting for your clothes to dry in crowded laundromats or dealing with unpredictable weather?
Hurry up ! Fall Sale end in:
About Morus Zero

【Fast 15-Minute Drying】With advanced drying technology, morus Portable Dryer can dry a shirt in just 15 minutes that is needed in a hurry. Make laundry days more efficient and save your valuable time. Especially suitable for apartment dwellers, it makes laundry days more manageable, saving precious time and space.
【Plug-and-Play Convenience with Aesthetic Appeal】Experience the ease of our install-free mini dryer. This portable dryer for apartments is not just lightweight and easy to move, but also boasts a sleek design that enhances any space.Just plug it in and start drying - Morus Zero is the perfect blend of functionality, convenience, and contemporary design.
【Worry-free Drying with Smart Mode】Experience the convenience of fully automated drying with Morus Zero. There's no need to set the time - our smart technology automatically predicts the required duration based on your clothing's condition. Allow Morus Zero to handle the work, making your laundry routine genuinely worry-free.
【Refresh Your Clothes without Washing】Equipped with a high airflow speed of up to 43.5 MPH, our Portable Dryer can refresh your clothes without the need for washing. It effectively removes odors and leaves your clothes feeling fresh and clean.
【Versatile 8-Mode Functionality】Select from 8 different modes including SMART, QUICK, REFRESH, SANITIZE, SHOE, SHIRT, SILK, and WARM. Our portable dryer machine for clothes caters to your specific needs, making it a versatile addition to your laundry routine.
1-Year Happiness Guarantee

Don't worry, Every Morus Zero has 1 Year Happiness Guarantee. From design to manufacturing, delivery to service, we are committed to quality. We honor a 1-year warranty on all products.
30 Days Risk Free Trial

Our Return and Exchange Policy allows for most products purchased from Morus to be returned within 30 days from the date of receipt without any reason, with certain exceptions. Our Return Policy.
Share
What Makes Morus Zero the Best Choice for You?
Best quality ultrafast portable tumble dryer based on patent drying technology. It can dry your clothes in the fastest 15 min with awards-winning compact size, UV sterilization, fabric protection, and smart sensor drying, zero installation needed.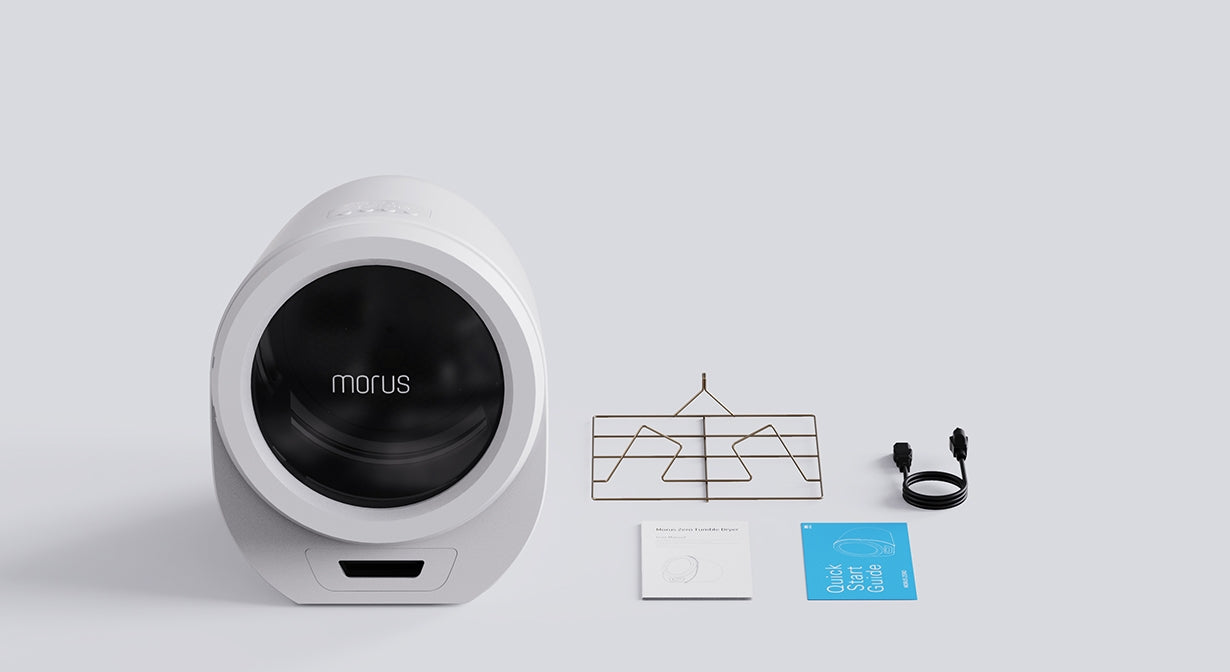 Installation is a Breeze
At Morus, we believe in keeping things simple for you. That's why all our installations are pre-completed. When you receive your Morus Zero, just follow our easy-to-read product manual to plug it in and flip the switch.
It's as simple as that! Enjoy the convenience Morus brings to your life.
And if you ever have any questions, don't hesitate to chat with us – we're here to patiently assist you until everything is just right.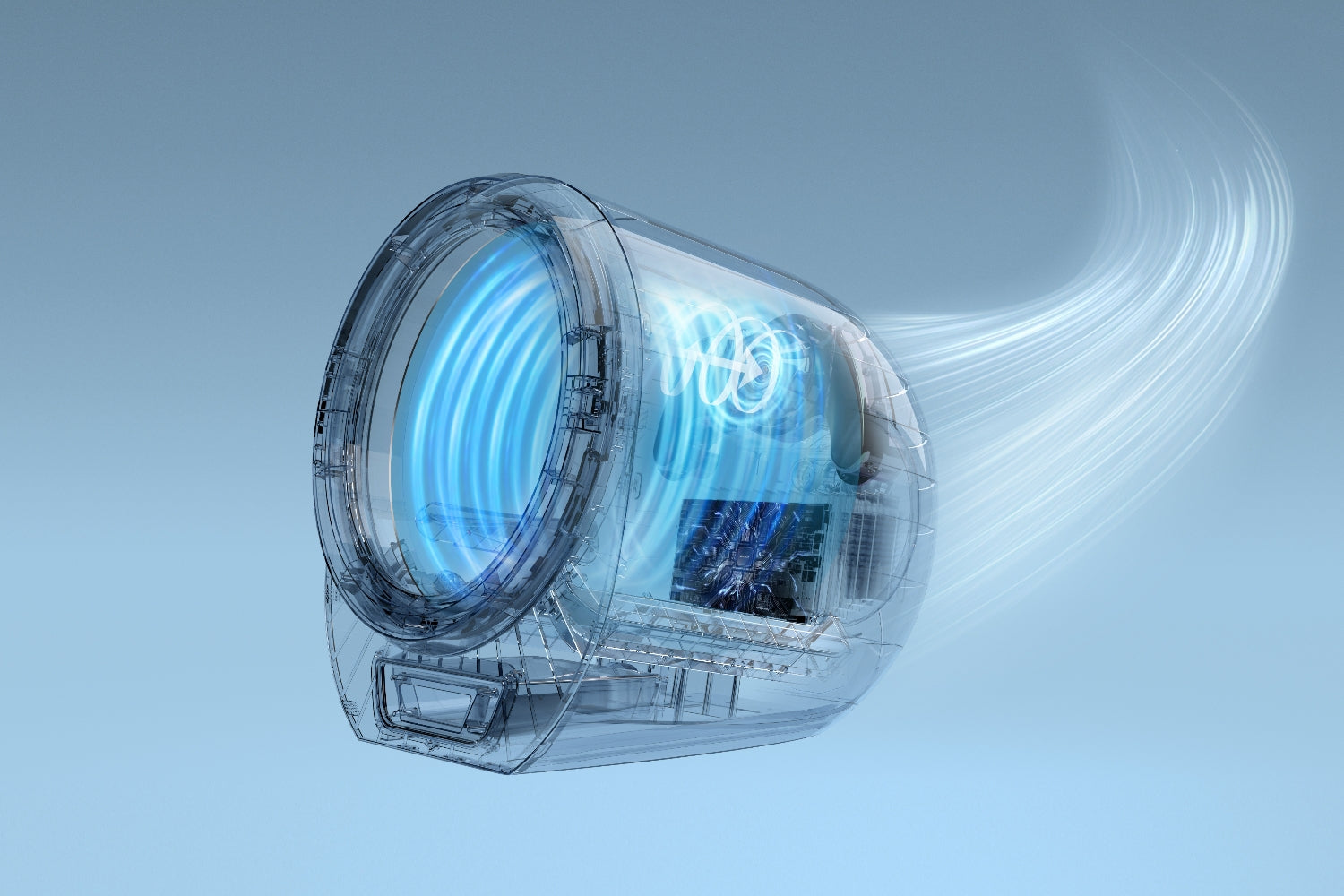 Quick Drying in Just 15 Minutes
Tired of waiting for ages in the laundry room?
Fed up with damp clothes just before that special date?
With our unique patented technology, Morus can put an end to all your worries in just 15 minutes. Simply flip the switch and choose our tailor-made QUICK MODE, and voilà, you're good to go!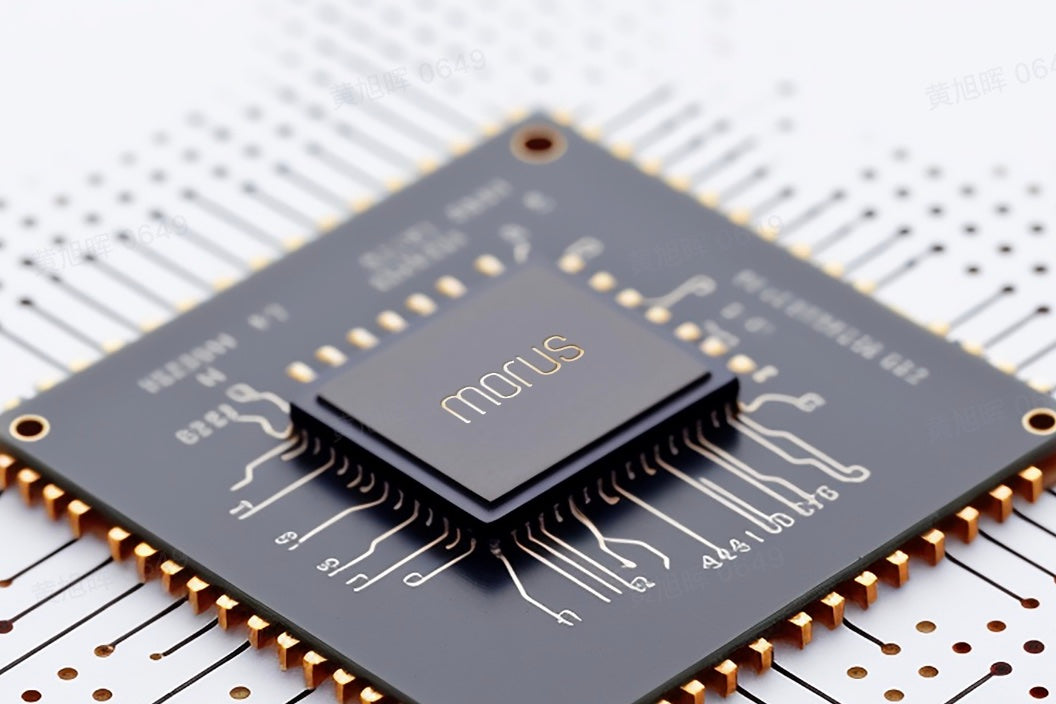 What is Smart Mode?
Ever had clothes damaged due to over-drying?
We've got you covered with Morus' SMART MODE. When Morus Zero detects that your laundry is perfectly dry, it automatically shuts off. Simply hit 'Start', relax, and let Morus Zero take care of the rest. It's that easy.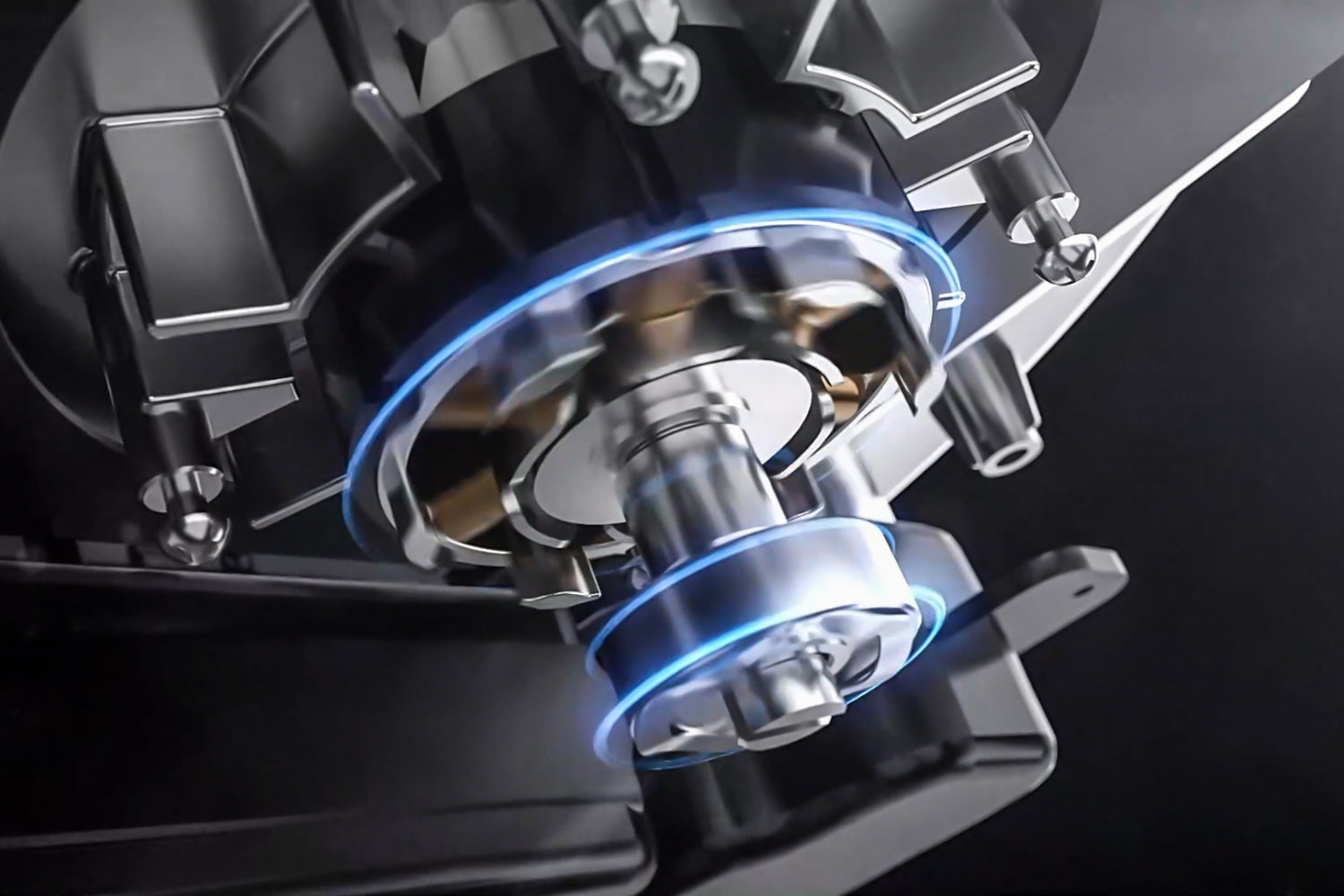 Reverse Rotation to Aviod Tangling.
Unlike the single-motor design of other conventional dryers, Morus Zero has three high-performance motors inside, one of which is used to drive the drum to rotate independently.
Our program can precisely control the direction, speed and even acceleration of the tumble. In this way the clothes can be dried evenly and come out with fewer wrinkles. 
Explore More Powerful
Refresh Mode

Sanitize Mode

Silk Mode

Warm Mode

Shoe Mode
Tired of stubborn odors lingering on your clothes? Morus Zero's Deodorizing Mode is here to save the day. Whether it's the smoky scent from a night out or the aftermath of a barbecue party, Morus Zero ensures your clothes come out smelling fresh and clean every time.
The built-in sterilization effectively eliminates 99.9% of bacteria during the ultrafast drying time. It's also environmentally friendly since there are no dangerous or toxic chemicals to handle. So not only does Morus Zero keep your clothes dry, but also keeps them clean from any nasty bacteria!
Morus has you covered. Our innovative low-temperature, slow drying technology ensures your delicate fabrics are treated with the utmost care, leaving them refreshed and like new. Say goodbye to worries about high-end materials; Morus keeps your wardrobe looking its best.
Have you noticed the weather getting colder? Imagine stepping out of a hot shower and wrapping yourself in a warm, cozy bathrobe. It's a delightful feeling, isn't it? With Morus Zero's Warm Mode, you can enjoy that warmth in just one laundry cycle.
With the included drying rack, you can use it to refresh not only shoes but also children's toys, makeup brushes, and more. Morus Zero, making your life easier one drying cycle at a time.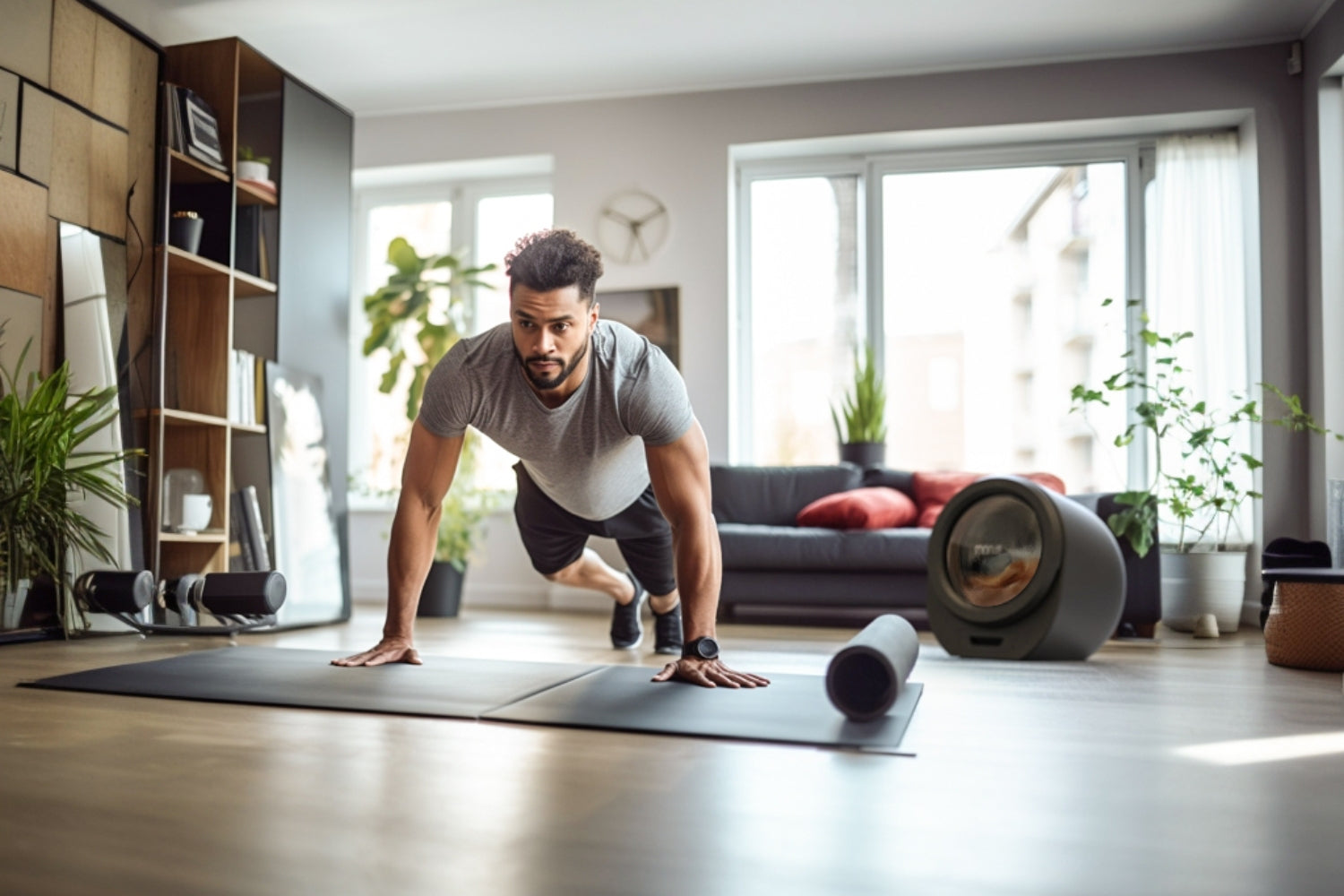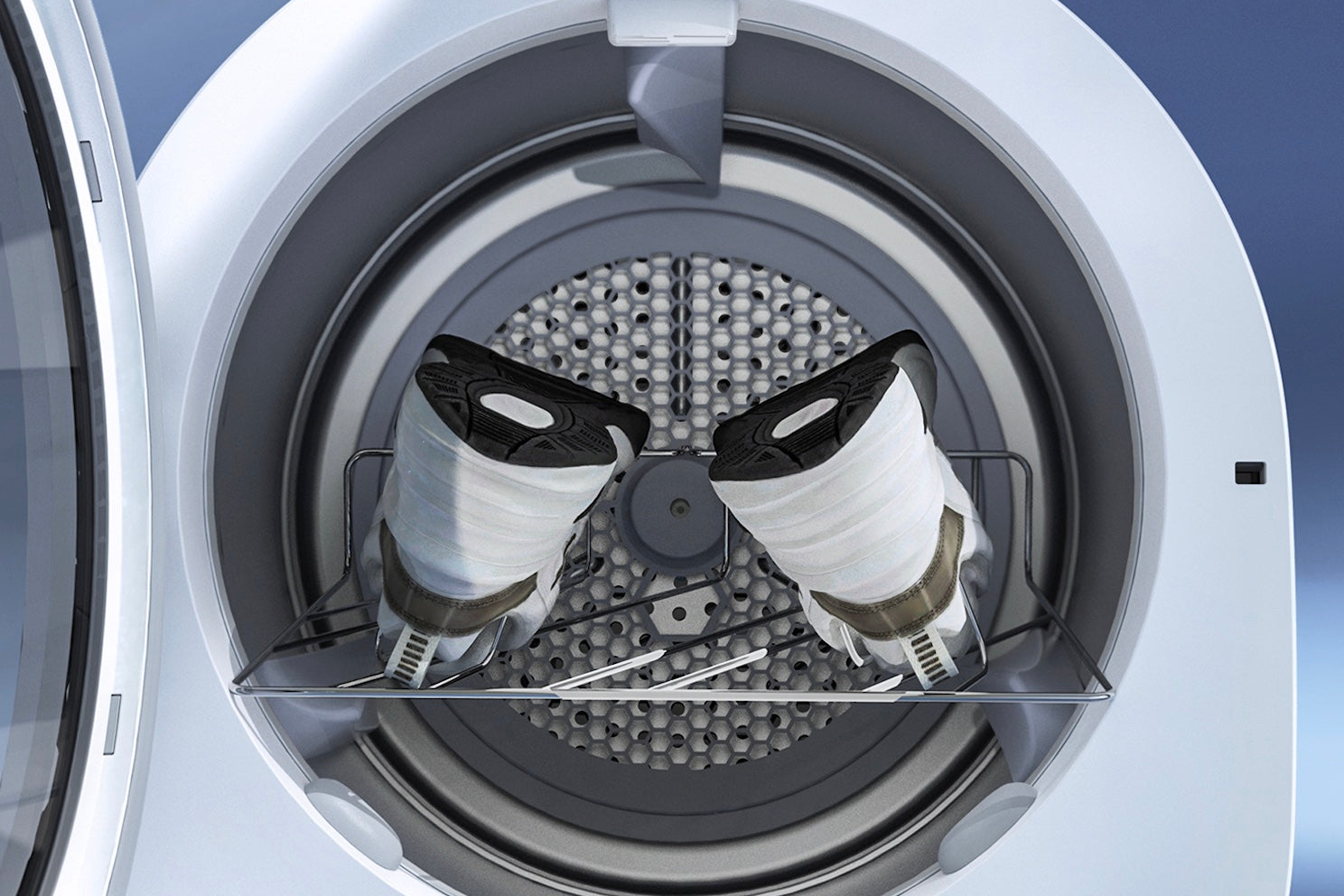 Inspiration Starts with Options.
Try sliding the buttons to choose your favorite style. Explore our environments and inspire yourself to find the right balance in your apartment, tiny home or RV.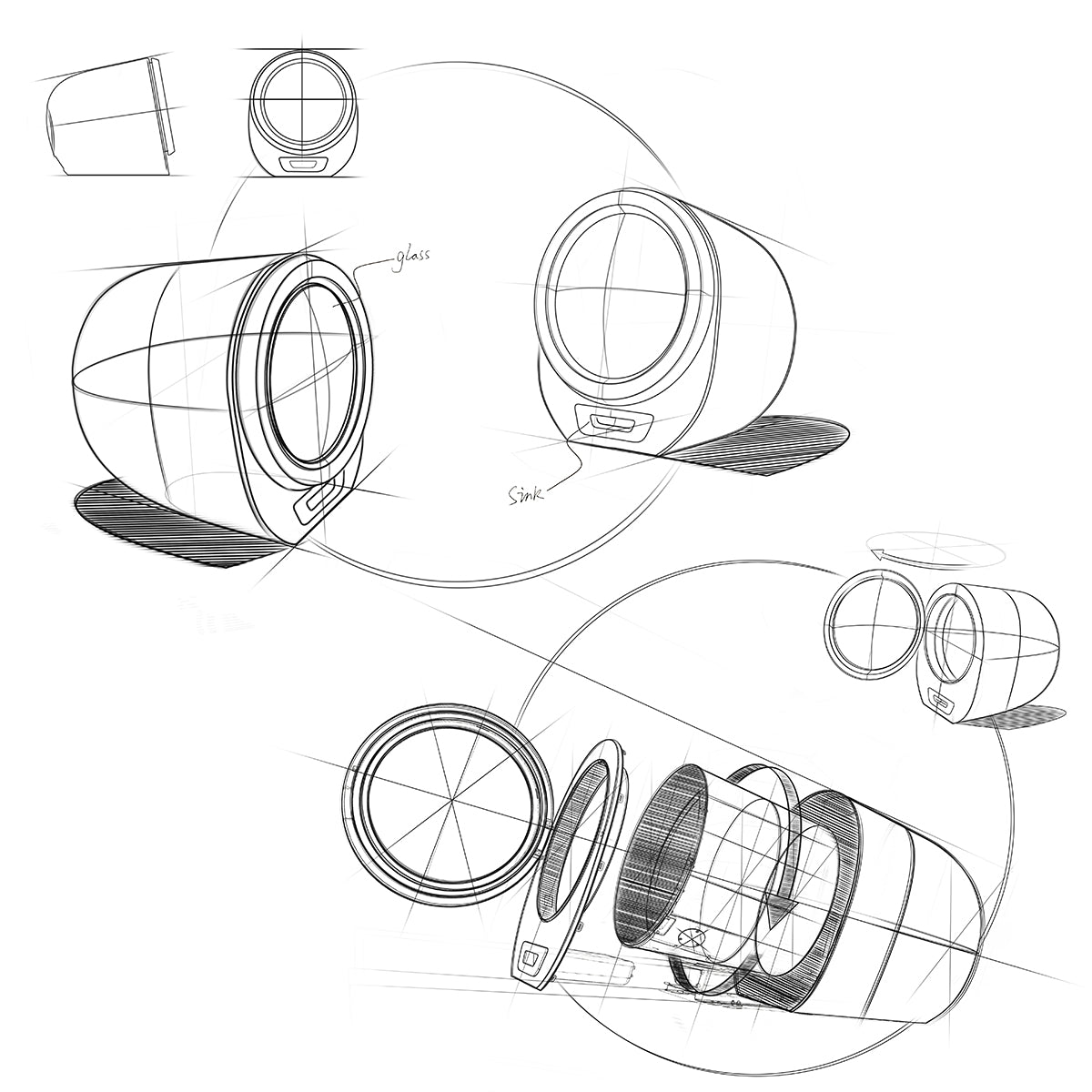 Love of Morus Design
At Morus, we are motivated by a love of design and a commitment to constant innovation. We are always challenging ourselves to create products that elevate the modest moments in peoples' lives. This means thinking about everyday items in new, original ways, using the most cutting-edge materials, methods, tools, and technologies available.
Our Story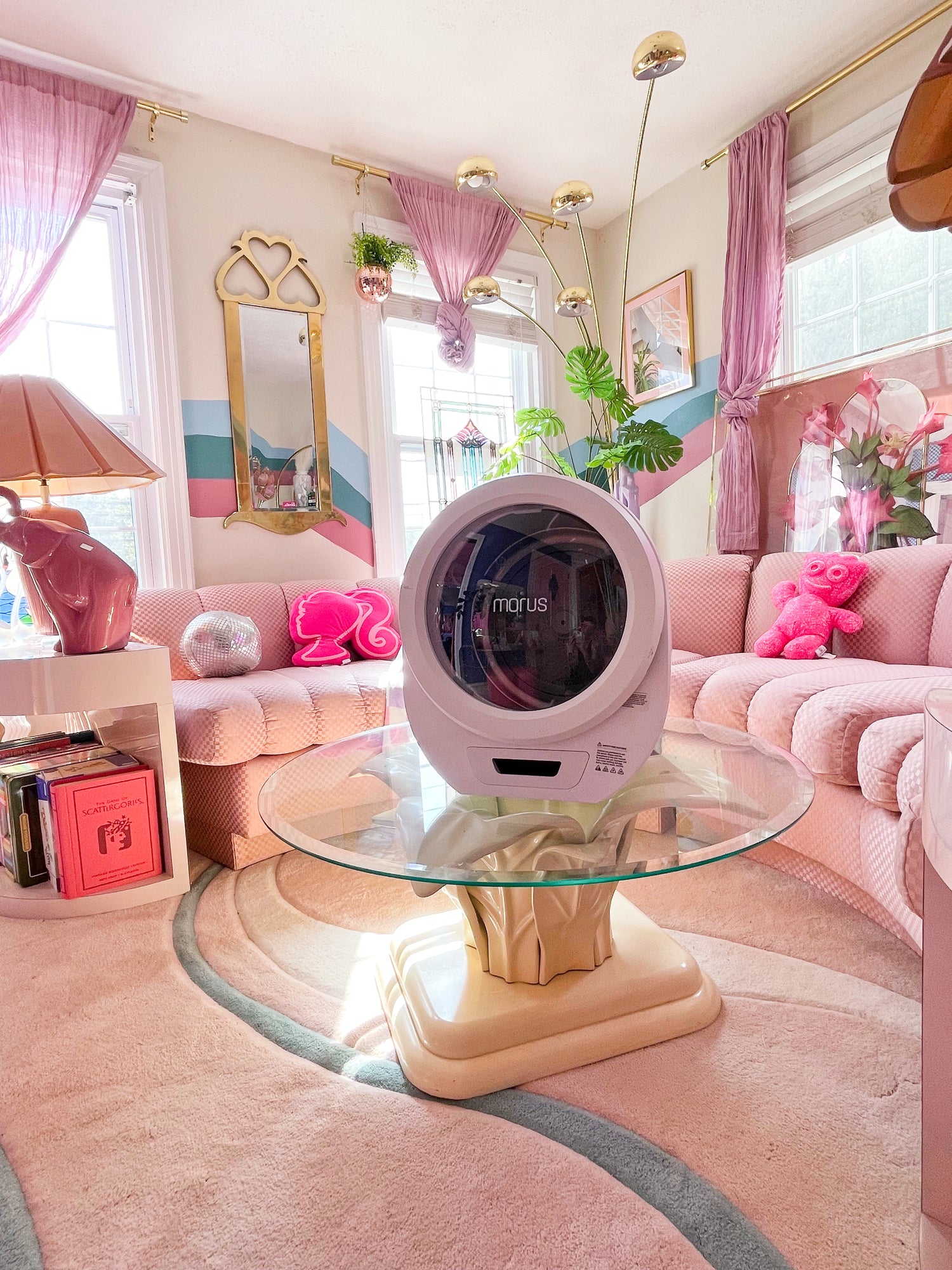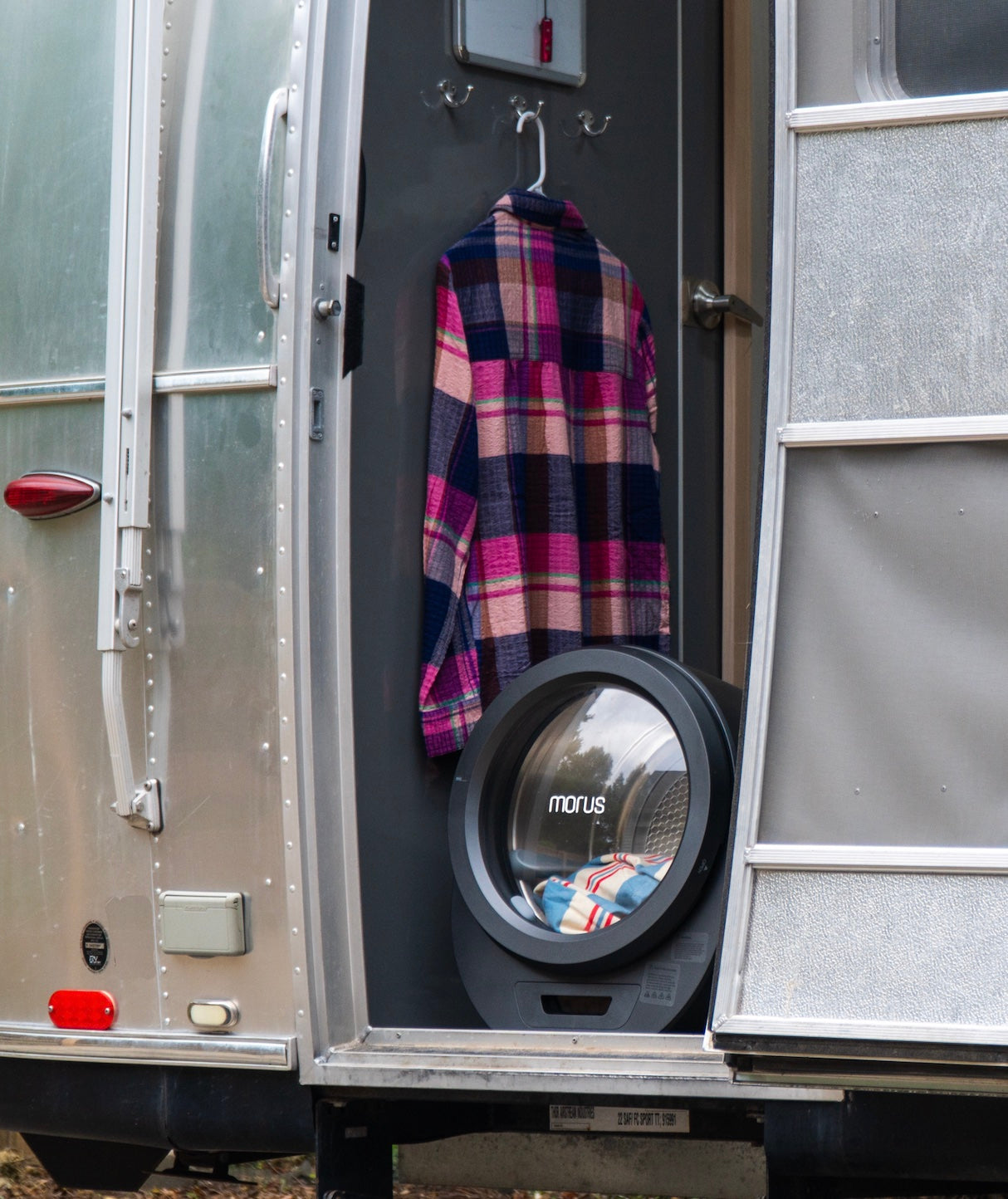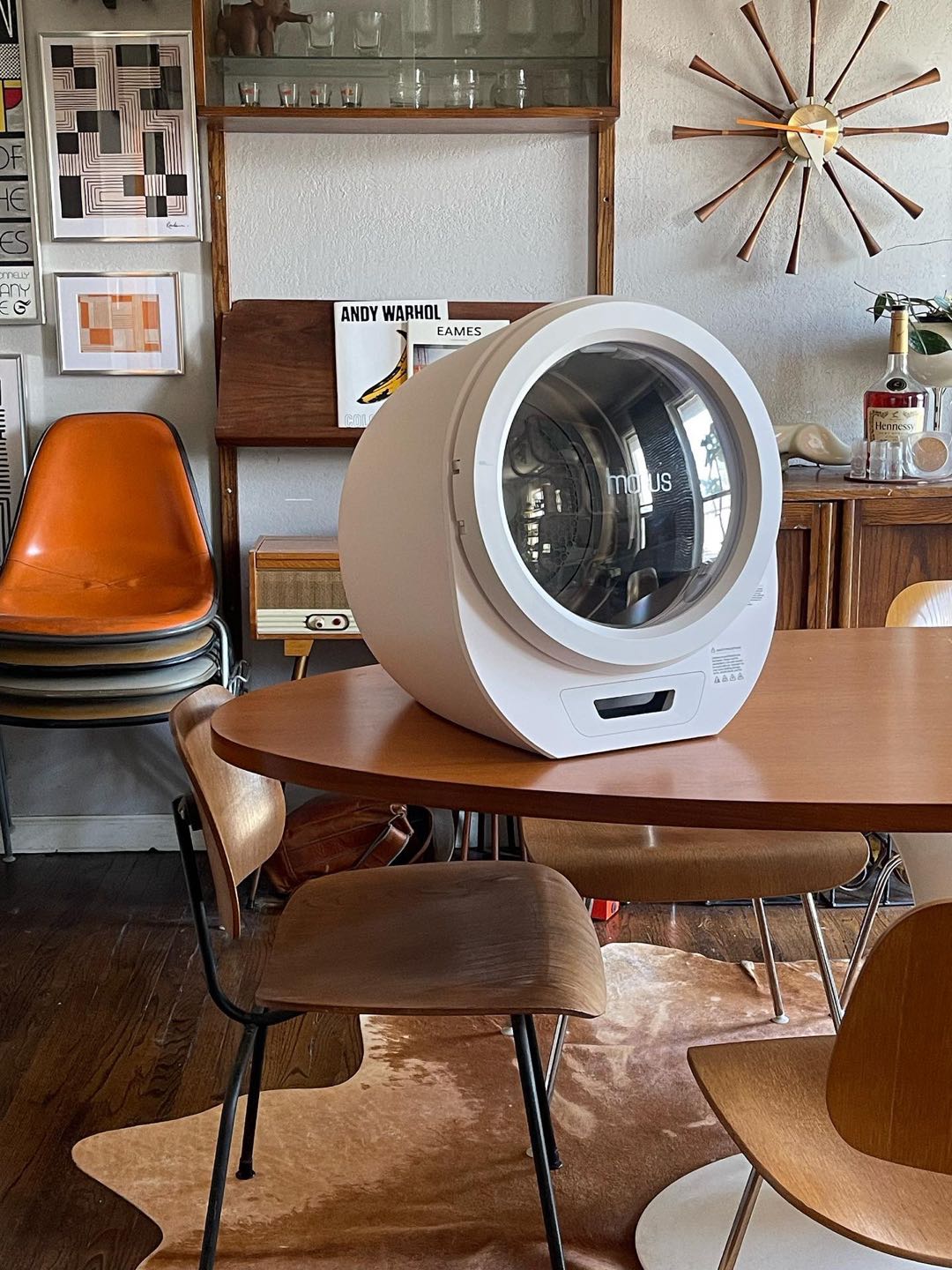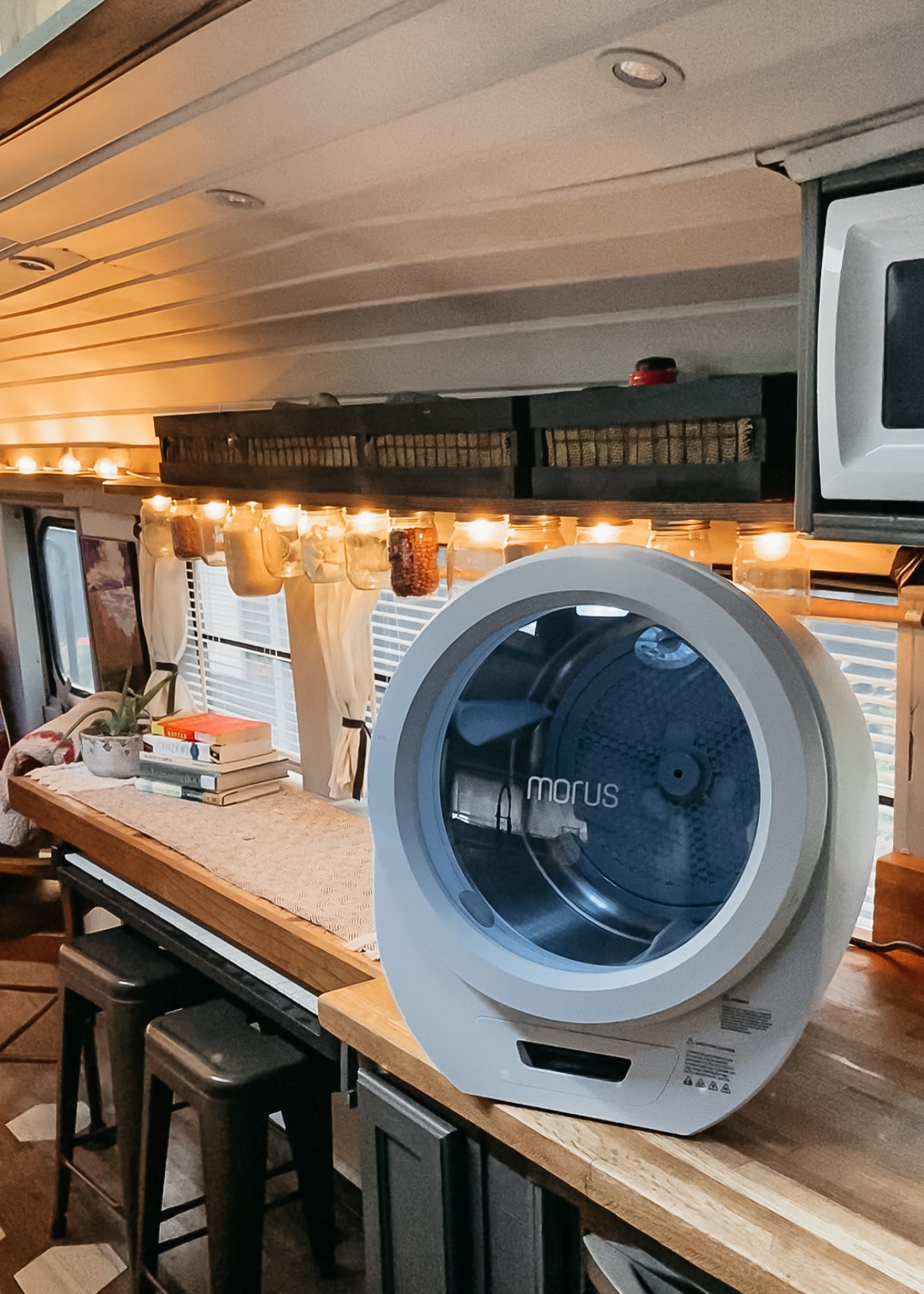 Share Your Morus Story
Your Morus moments matter! Share your unique experiences with Morus Zero. Whether it's a laundry win, a travel companion, or a cozy addition to your daily routine, we want to hear how Morus Zero has made a difference in your life. Join our community, inspire others, and win exciting rewards. Your Morus story is waiting to be told!
Join us
What our Real Customer Say?
My name is Art San, a successful sports service and business owner. I have four hundred square feet, and I make sure that my space is used efficiently. When I saw the Morus Portable Dryer, it was a no-brainer for me to purchase one. It has 2 full purposes for massage therapists, estheticians, or acupuncturists. I can use the sanitizer mode to sanitize the throw blankets or small pillows in between clients. After washing my small wash towels in the sink. I can place them in the dryer for 60 minutes with this whisper quiet dryer doing this job. It has reduced my take-home laundry by at least one third! I wholeheartedly recommend this portable dryer for personal.

Art San(Verified Customer)

this is a really good little utility dryer, VENT-LESS, PORTABLE, 110v, FAST if clothes are properly spin dried first. Great movable put anywhere appliance. It even fits on my kitchen counter. A bit pricey but you are paying for efficiency, portability, convenience, sanitation, did i mention it also has a sanitizing mode? Yep, it uses UV light to sanitize on that setting (great for all you new moms and babies things 🙂 I for one am happy with mine, as a single man, living alone..So great for small daily loads.

Michael J Boyink(Verified Customer)

I've had my morus since October 2022. It was a bit pricey, but so far worth every penny. It takes up minimal space, doesn't need venting and dries clothes as good as the apartment dryer that I have to pay to use, and I don't have to put my wash in a machine that others use. That right there made it worth the price!

Connie(Verified Customer)

1) light weight is great

2) no dryer vent is also amazing because I can set it up anywhere I want and hide it if I want.

3) compact design is great for space saving

4) fabric feel after drying is amazingly soft. I use wash cloths with my bidet and hang dried wash cloths vs morus dried is a world of softness different. Everything feels like it was dried in a full size dryer. Jeans, shirts, wash cloths, socks, all have that tumble dry feel I've missed for so long!

Dan Chu(Verified Customer)

Doing laundry at a laundromat costs around $6.20 each time. Plus, it's a total time drain. I'm loving my Zero dryer - no more costly trips or wasted hours. lt's like saving money and time with every load!

Nelson.S (Verified Customer)
FAQs
How many clothes does Morus Zero handle in a load?

Morus Zero can take about 7 to 8 XL size adult shirts (12 to 14 face towels.), which is perfectly enough for 3-4 people's daily drying.

Also, to prevent overloading, we suggest you thoroughly spin dry using the washing machine before putting it in the dryer.
How much voltage does Morus Zero use?

We have 110V-120V AC voltage versions for different countries and are compatible with 50Hz and 60Hz frequencies.
Does Morus Zero has a lint trap?

Morus Zero comes with a lint trap which is used to capture the lint during drying. Since the amount of lint from different clothes is different, to make the machine work perfectly, it's suggested to check the lint filter after every one or two dryings. We have made the maintenance super easy to perform. You can read our user manual for the specific steps.
What is the Morus Warranty?

Morus comes with a standard 1-year warranty/ 1-year Happiness Guarantee upon product registration*.

The Warranty applies should your Morus have a manufacturing defect in the product material or workmanship within the stated Warranty period. The warranty is non-transferable and proof of purchase is required to claim.

Morus products come with a warranty of up to twelve (12) months from the date of the sales invoice. (*The warranty period may vary based on local laws and regulations.) If your product experiences performance issues due to normal use within the warranty period, Morus will provide free maintenance services.

Warranty Limitations Subject to Consumer Law: To the extent permitted by law, this warranty and the remedies outlined herein are exclusive and replace all other warranties, conditions, and remedies, whether oral, written, statutory, express, or implied. Morus disclaims all statutory and implied warranties, including, but not limited to, merchantability and fitness for a particular purpose, and warranties against hidden or latent defects, to the extent permitted by law. In situations where such warranties cannot be disclaimed, Morus limits the duration and remedies of such warranties to the terms of this express warranty and the repair or replacement services described below.

What Is Covered by This Warranty: This warranty applies exclusively to Morus products purchased for personal use from the official Morus Store and not intended for resale. Under this Limited Warranty, Morus warrants that each product you purchase is free from defects in materials and workmanship under normal use during the warranty period. The warranty period begins on the day you receive the product. If you cannot provide an invoice or other valid proof of purchase, the warranty period will commence 90 days after the device's factory production date, ending 15 months after the production date (unless otherwise specified by Morus).

To qualify for free-of-charge warranty service, the following conditions must be met: √ The product has been used normally within the warranty period and shows no signs of external damage. √ The product has not undergone unauthorized disassembly, modification, or alterations outside the official manual guidelines, nor has it been subjected to other human-caused failures. √ You can provide valid proof of purchase, receipts, and order numbers.

What Is Not Covered by This Warranty: This warranty does not cover the following:

Any non-Morus branded hardware products or software, even if packaged or sold with Morus hardware.

Failure to follow instructions related to using Morus products, resulting in damage or issues.

Products that fall outside the warranty period.

Damage due to private modification, disassembly, or product teardown not guided by the official manual for attempted repairs.

Failures due to the customer's own repair installation of accessories without official guidance.

Cosmetic damage, including but not limited to scratches, dents, and damage to port plastics.

Damage caused by the use of third-party components or products.

Product failure or damage due to accidental factors or human causes (e.g., water immersion, shock, falling, etc.).

Product failure or damage caused by a major incident or natural disaster (e.g., fire, earthquake, lightning, etc.).

Damage due to incorrect installation, use, or operation not following the official product manual.

Damage incurred during upgrade/repair services by anyone other than Morus representatives.

Defects resulting from normal wear or aging of Morus products.

Removal or tampering of any Morus product's serial number.

Inability to remove password-enabled or other forms of security to prevent unauthorized use of Morus products, unless proof of authorized product use (e.g., presenting proof of purchase) is provided.

Failure to send the corresponding item within seven natural days after requesting warranty service.

What Morus Will Do:

If you encounter an issue with your product, please contact Morus and provide a detailed description of the problem.

Availability and terms of after-sales service may vary by location, and services outside the standard service range may incur charges. For detailed information based on your location, please contact Morus.
What is your return policy?

Use collapsible tabs for more detailed information that will help customers make a purchasing decision.

Ex: Shipping and return policies, size guides, and other common questions.

Our Return and Exchange Policy allows for most products purchased from Morus to be returned within 30 days from the date of receipt without any reason, with certain exceptions.

Morus will offer an exchange if there are any quality issues with the product within 30 days from the date of receipt. We will provide a refund if an exchange unit is not available.

The returned product should maintain its original quality and function, and the product itself, packaging, accessories, gifts, instructions, trademark labels, etc., should be complete and intact without any human damage, have not been activated, and should not affect secondary sale. Morus will refund the full product price, and no restocking fee will be charged for product returns.

We reserve the right to refuse return requests under the following circumstances:

Products not purchased from the official Morus Store.

Lack of order/serial number in the Morus Store system or mismatched serial number.

Inability to provide a legal purchase certificate or receipt.

Forged or altered purchase certificates or receipts.

Return requests submitted beyond the specified time period as per applicable laws and regulations.

Incomplete product returns, including missing items from the original factory packaging.

Damage to the product's appearance due to human causes.

Unauthorized repairs, modifications, or tampering with certification marks, labels, or packaging.

Traces of use that cannot be restored to the original state.

Quality issues caused by collisions, unauthorized modifications, foreign substance intrusion, incorrect installation, or improper use.

Returns due to logistics damage, missing items, or incorrect product sent, where the recipient has signed without providing relevant credentials from the logistics company.

Products damaged due to force majeure factors such as fire, flood, lightning, traffic accidents, etc.

Goods made to your specifications or personalized items.

Sealed audio or video recordings or sealed computer software that has been unsealed after delivery.

Other circumstances stipulated by applicable laws and this policy.

Return Guidelines

(a) To request a return, please click the "Apply for Return/Exchange" button on the "My Orders" page of the Morus Store within 30 days from the date of receiving the products. You can also submit a return request by emailing

support@morus.com

or through other online support channels.

(b) After submitting a return request, we will contact you via email or other means to confirm your return requirements. Please review and respond to our communication. Contacting you does not imply automatic approval of your return request. The approval of your return application depends on whether the return conditions are met.

(c) Once your return and refund request is approved, please ship the complete product (including the product itself, outer packaging, accessories, gifts, instructions or manuals, trademarks, and original invoices) to the designated address provided by Morus within 14 days from the approval date.

(d) For returns due to product quality issues, Morus's technical support department may need to conduct inspections to determine the presence of such quality issues.

(e) If the product meets the return conditions, we will initiate the refund process within 7 days from the date of receiving the returned product. The timing of the refund appearing in your receiving account depends on your financial institution's internal policies and practices. If we've issued a refund but you haven't received it, please contact your financial institution.

Return Fees

(1) For orders eligible for the no-reason return policy, Morus will not charge any handling fees or additional fees. However, logistics fees and relevant handling fees (if permitted by applicable laws) incurred during the return process will be borne by you. If there are handling fees during the return process, these fees may be charged by your credit card issuer or payment institution based on the terms of the payment agreement you've agreed to. For questions, please contact your card issuer or payment institution. If your return does not meet the conditions for free shipping, Morus reserves the right to deduct the shipping fee from the refund amount.

(2) Basic fees incurred for returns due to quality issues will be covered by Morus, including logistics fees.

(3) If you choose not to return the gift or if the gift cannot be returned, you should pay the indicated gift price as specified in advance. Morus reserves the right to deduct the pre-indicated gift price from the refund amount without receiving the returned gift. Gifts can include, but are not limited to, physical items, points, vouchers, and coupons.

We reserve the right to refuse exchange requests under the same circumstances as mentioned above.
Guarantees
Free shipping

Free USA shipping when get your Morus Zero

Customer service

Our support team is available 24/7

Secure Payment

All payments are processed securely

1 - YEAR WARRANTY

Morus come with a warranty of zero (0) to twelve (12) months from the date of the sales invoice