Morus Four Wheel Dolly
---
Regular price

$39.99

Sale price

$39.99
PRODUCT DESCRIPTION

Dimensions: W*290 D*420 H*85 mm
Weight: About 1.4 kgMax.
Load: 100 kg
Material: Body: engineering plastic      Wheels: synthetic rubber
1-Year Happiness Guarantee

Don't worry, Every Morus Zero has 1 Year Happiness Guarantee. From design to manufacturing, delivery to service, we are committed to quality. We honor a 1-year warranty on all products.

Morus products come with a warranty of up to twelve (12) months from the date of the sales invoice. (*The warranty period may vary based on local laws and regulations.) If your product experiences performance issues due to normal use within the warranty period, Morus will provide free maintenance services.

Warranty Limitations Subject to Consumer Law: To the extent permitted by law, this warranty and the remedies outlined herein are exclusive and replace all other warranties, conditions, and remedies, whether oral, written, statutory, express, or implied. Morus disclaims all statutory and implied warranties, including, but not limited to, merchantability and fitness for a particular purpose, and warranties against hidden or latent defects, to the extent permitted by law. In situations where such warranties cannot be disclaimed, Morus limits the duration and remedies of such warranties to the terms of this express warranty and the repair or replacement services described below.

What Is Covered by This Warranty: This warranty applies exclusively to Morus products purchased for personal use from the official Morus Store and not intended for resale. Under this Limited Warranty, Morus warrants that each product you purchase is free from defects in materials and workmanship under normal use during the warranty period. The warranty period begins on the day you receive the product. If you cannot provide an invoice or other valid proof of purchase, the warranty period will commence 90 days after the device's factory production date, ending 15 months after the production date (unless otherwise specified by Morus).

To qualify for free-of-charge warranty service, the following conditions must be met: √ The product has been used normally within the warranty period and shows no signs of external damage. √ The product has not undergone unauthorized disassembly, modification, or alterations outside the official manual guidelines, nor has it been subjected to other human-caused failures. √ You can provide valid proof of purchase, receipts, and order numbers.

What Is Not Covered by This Warranty: This warranty does not cover the following:

Any non-Morus branded hardware products or software, even if packaged or sold with Morus hardware.

Failure to follow instructions related to using Morus products, resulting in damage or issues.

Products that fall outside the warranty period.

Damage due to private modification, disassembly, or product teardown not guided by the official manual for attempted repairs.

Failures due to the customer's own repair installation of accessories without official guidance.

Cosmetic damage, including but not limited to scratches, dents, and damage to port plastics.

Damage caused by the use of third-party components or products.

Product failure or damage due to accidental factors or human causes (e.g., water immersion, shock, falling, etc.).

Product failure or damage caused by a major incident or natural disaster (e.g., fire, earthquake, lightning, etc.).

Damage due to incorrect installation, use, or operation not following the official product manual.

Damage incurred during upgrade/repair services by anyone other than Morus representatives.

Defects resulting from normal wear or aging of Morus products.

Removal or tampering of any Morus product's serial number.

Inability to remove password-enabled or other forms of security to prevent unauthorized use of Morus products, unless proof of authorized product use (e.g., presenting proof of purchase) is provided.

Failure to send the corresponding item within seven natural days after requesting warranty service.

What Morus Will Do:

If you encounter an issue with your product, please contact Morus and provide a detailed description of the problem.

Availability and terms of after-sales service may vary by location, and services outside the standard service range may incur charges. For detailed information based on your location, please contact Morus.
30 Days HASSLE-FREE R&D

For products purchased via the Morus official website that meet the following conditions, we provide you with a guarantee for returns and exchanges within 30 days of purchase.

1. Damaged, Missing, or Wrong Items, Lost packages

Upon receiving your package, please carefully inspect whether the received package matches your actual order, including the product quantity, model, and condition of your package (Some accessories may have delayed delivery.). If there are any discrepancies, please refrain from opening the package and promptly contact us with the order number and provide video or photo evidence to clearly show any discrepancies. We will assist you with the return or exchange process.

If you receive a defective or damaged product, please provide the following information when you contact us. We will verify your issue within 1-2 business days after receiving the information and, upon confirmation, arrange for a replacement to be sent to you.

Order number

Product's serial number (SN)

A video or photo evidence that clearly shows the product's defect or damage

If you have not received your shipment after a significant delay, please contact your designated logistics carrier promptly. If you are unsure of your order tracking number, please provide your order number to us for further assistance.

Please note:

If you have made an ordering error for reasons attributable to yourself but the product remains unopened upon arrival you may return it within 30 days, however, you will be responsible for any return shipping fees incurred. Once we receive and confirm the returned product is in good condition, we will proceed with your refund. However, if you have already opened the product due to personal preference or have simply changed your mind, this will fall outside our return and exchange policy.

2. Malfunction or Serious Product Quality Issues.

To assist you in using our products effectively, we ask that you carefully read any user

product manuals

before using the device you have purchased.

If you encounter any malfunctions or product quality issues that affect the functionality of your product, you can refer to the

FAQ page

on our official website. We typically process your feedback within 1-2 business days and provide troubleshooting assistance. 

The aforementioned returns and exchanges are applicable only to quality issues that occur within one year from the date of purchase.

3. Product unsuitability

Before purchasing Morus products (such as Morus Dryer, Morus Washer), please ensure that the product you are purchasing is suitable for your needs before placing your order. If you proceed with the order despite confirming compatibility before purchase, we will not be able to provide a refund.

4. Order Cancellation

We strive to process all orders within 2 business days (excluding Saturdays, Sundays, and holidays). If you wish to cancel your order, please contact us promptly via email/live chat within 2 business days. If your order has not been shipped yet, we will process your refund once we have received your request, please note: this may also take 1-2 business days.

If your order has already been shipped and you still need to cancel, we will attempt to have the designated courier return your order to us. However, this is on a case-by-case basis, and is not guaranteed.

If your order is successfully returned, we will process your refund within 1-2 business days from the return date.

If we are unable to recall your order, please refuse to accept it upon receipt. If we receive a product that has been opened, we cannot provide a full refund. Once your package is confirmed to be in transit back to us, we will process your refund within 1-2 business days.

Please note:

Once we have processed your refund, your financial institution may require an additional 3-7 business days to process your refund.

5. Return and Refund Procedure

1. If you need to return or exchange a product due to the aforementioned circumstances, please provide the following information to contact us. We typically process return and exchange requests within 1-2 business days.

Order number
Reason for return/exchange
Video/photo evidence
Product's serial number (SN)

Please provide clear reasons and videos to help us with your return/exchange.

2. Once eligibility for return or exchange is confirmed, we will provide you with a return shipping address.

3. Customers must provide a tracking number when shipping products.

4. Once we receive the returned product and confirmed its condition, we will process your refund within 1-2 business days.

Please note:

The time it takes for products to be sent back to our warehouse varies and may take up to as long as 1 month. Our warehouse accepts returns every two weeks . If you find that your return has not been processed according to your expectations, we would ask that you please wait patiently; (our warehouse is located in the United States), and we will deal with your return as fast as we can.
Share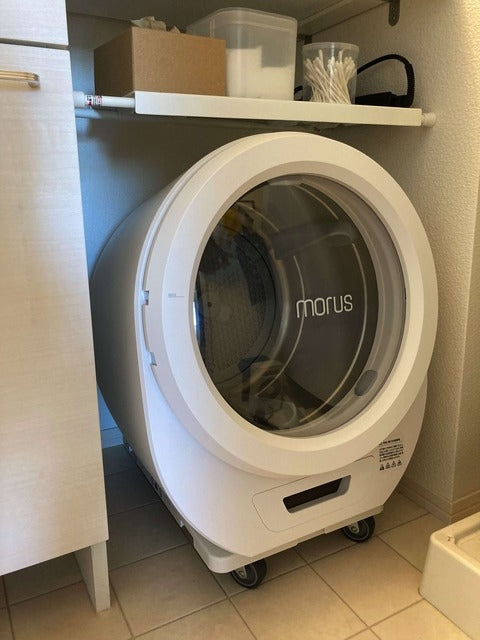 Taking up space at home? Impossible!
Meet the Morus 4 Wheel Dolly, a four-wheeled dolly that's the perfect complement to the Morus Zero. While the Morus Zero has its own weight advantages, our conversations with numerous users have uncovered that the majority tend to store our products in cabinets, which often necessitates frequent, inconvenient transport. In response, we designed the Morus 4 Wheel Dolly to facilitate effortless mobility of our product.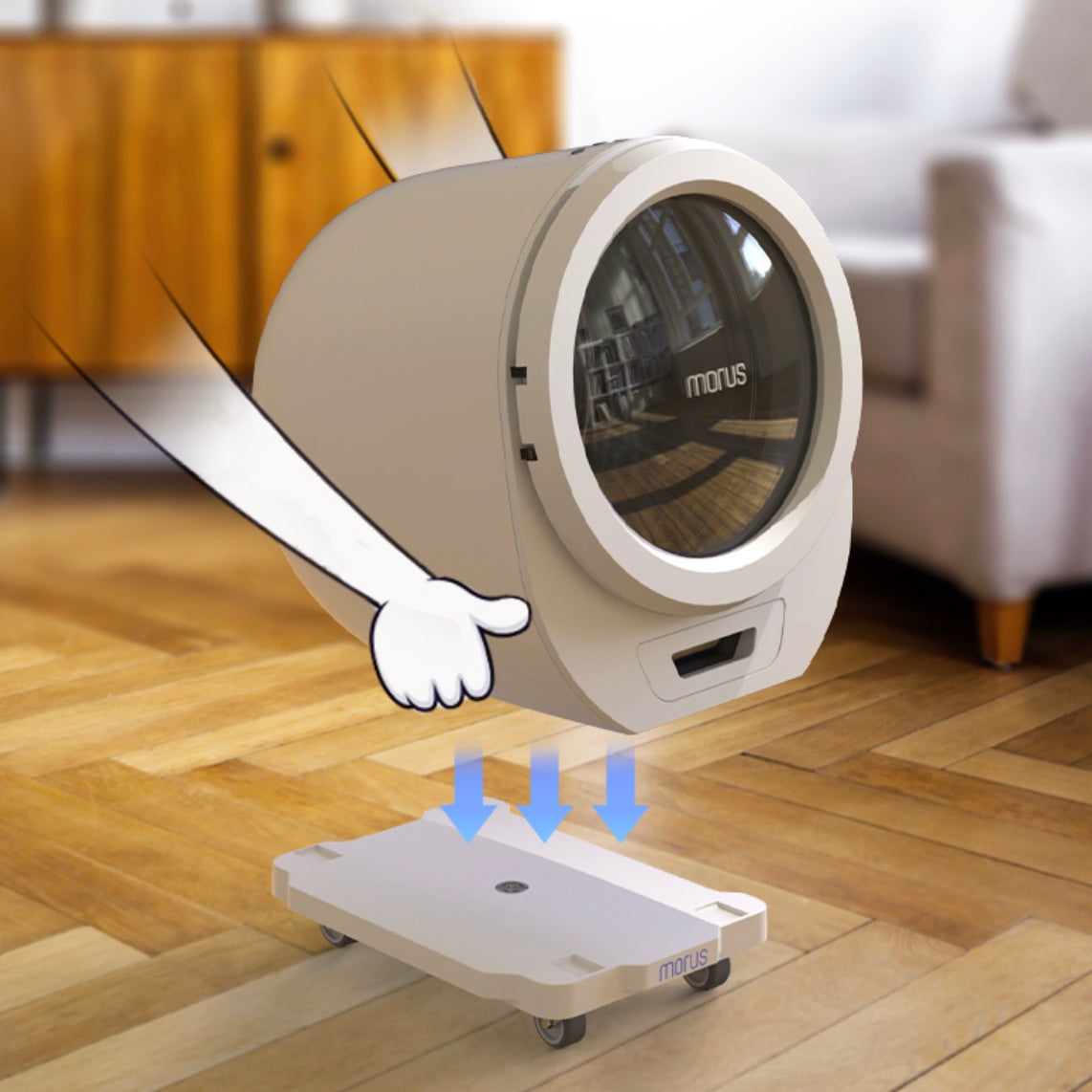 The Perfect Companion for Morus Zero
Morus Zero has received acclaim for its easy installation, and as such, we aim for all our products to eliminate these complex installation processes, ensuring our valued customers have an exceptional product experience. All the installation steps for the Morus Wheel Dolly are as simple as just opening the package. Place your beloved Morus Zero on top to enhance your storage experience.