Dry Swimsuits Fast: Portable Dryers For Quick Drying After The Beach
Morus Innovation
Navigation
Introduction
Nothing can ruin a fun day at the beach or pool like having to sit around in soggy, chlorine-soaked swimwear and beach clothes afterwards. The discomfort of wearing a cold, wet swimsuit underneath your clothes is bad enough, but trying to fully dry towels, coverups, hats and more in a damp changing room or stuffy hotel room can seem impossible.
Who wants to pack up their whole wet mess and drag it home?
Don't just resign yourself to dripping and chafing the rest of the day - portable dryers provide a convenient solution for quickly drying all your water gear after aquatic adventures.
In this article, we'll look at how these compact dryers work, key features to look for, and tips for effectively using them to get your swimsuits and beach clothes dry fast. With the right portable dryer, you can say goodbye to the hassle of wet post-water activities and head home dry, clean, and comfortable.
The Discomfort and Hassle of Wearing Wet Swimsuits and Beach Clothes
There's nothing worse than having to spend the rest of the day in damp, clammy swimwear and beach coverups after a refreshing dip in the ocean or pool. The chafing and irritation caused by a wet swimsuit sticking to your skin is extremely uncomfortable.
Trying to dry off with just a towel never fully does the trick, leaving your suit dripping wet underneath your clothes. This can lead to embarrassing wet marks on your shorts or skirt when you leave the beach. Plus, soggy beach hats retain salt and chlorine, becoming irritating and itchy against your forehead and scalp. Damp pool bags can create a mess in your car or leak through on the trip home.
Even beach towels take forever to fully dry when simply wadded up. The discomfort and general hassle of walking around in wet swimwear and beach clothes after water activities is an annoying problem everyone faces.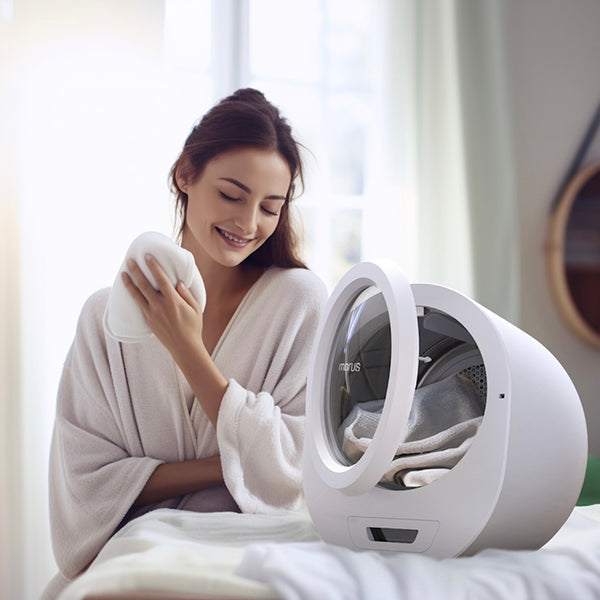 Portable Dryers Provide a Convenient Solution for Quick Drying
Portable dryers offer the perfect solution for rapidly drying all your wet swimsuits, coverups, towels, and other beach essentials. These compact dryers use heated airflow to fully dry damp items in a fraction of the time it takes to air dry.
You can quickly dry multiple soaked swimsuits, rash guards, and towels in under an hour. No more having to sit around dripping and uncomfortable for hours waiting for your beach clothes to dry naturally.
Portable dryers like inflatable hanging models are lightweight and easy to take to the pool or beach. Other designs are small enough to keep in your gym bag or suitcase.
So wherever you need to dry damp items fast while on the go, portable dryers provide a convenient and quick solution. In just minutes, you can be warm, dry, and comfortable again after fun water activities.
Understanding How Portable Dryers Use Heat and Airflow to Dry Items Fast
Portable dryers speed up drying times by using heat and continuous airflow to evaporate moisture from fabrics. They work similarly to full-size dryers by pulling air into the unit, heating it up, and then blowing the warm air through the wet items. The heat helps lower the humidity in the air.
Meanwhile, the constant airflow circulates new dry air through the fabrics, picking up moisture. This constant heating and air circulation results in much faster evaporation compared to just hanging clothes to air dry. Portable dryers with adjustable heat settings allow you to customize the drying temperature based on the fabric type to avoid damage.
Units designed to hold multiple items on a rack or collapsible drum expose more surface area to the moving airflow. This simultaneous drying of several wet articles results in fast drying action, so you can get all your beach clothes dry in one batch.
Conclusion
After a fun-filled day at the beach or pool, the last thing you want is to be stuck in cold, soggy swimwear and beach clothes. Portable dryers provide the perfect solution for quickly drying all your wet items so you can head home clean, dry and comfortable. Their compact size makes them ideal for using in changing rooms, hotel bathrooms, or packing in your beach bag.
Portable dryers utilize heated airflow to rapidly evaporate moisture from fabrics, drying swimsuits, coverups, towels and other items in just minutes. With the ability to customize settings and dry multiple articles at once, portable dryers are a convenient drying solution.
If you frequently find yourself frustrated by long air drying times for damp beach essentials, consider getting a portable dryer. In no time, you'll be able to dry all your wet swimwear and beach clothes fast after water activities.
Read More